Welcome to the Terradise Nature Center
Guided downstream by the mighty Olentangy River and just one mile south of the village of Caledonia, our 5 acre property houses a wide range of habitat and scenery. From the ever-present towering hardwoods to the seasonal pooling, Ohio's diverse wildlife thrives throughout Terradise Lane and Trails. Terradise Nature Center strives to "inform and engage our communities in their natural history, heritage and resources." This is done by the drive of our Board and staff enthusiastically facilitating the education and study of Terradise Nature Preserve, the Olentangy River and associated wetlands and forest.
Director's Report: April 27, 2021
As April winds down we find ourselves heading into one of the most exciting times of the year! The spring warbler migration!
Warblers are wonderful palm-sized, neo-tropical, insectivorous birds making their way north into breeding territory after spending the winter feeding in Central and South America!
There are over 30 species of warbler that can be spotted in Ohio, however, most will not visit your feeders.
The trick to these birds is knowing the proper habitat to look for and song the listen for.
For instance, the stunning common yellowthroat, with their white brow, black mask and bumblebee-yellow throat, can be spotted in the thick shrub-vegetation of marshes and wetlands. They also noisily chatter their withcety-witchety-witchety with consistency and enthusiasm.
Join Terradise Nature Center and Headwaters Outdoor Education Center for one wild 24hr species survey.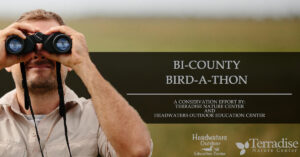 Beginning at 5pm on Friday May 14th and lasting all the way through the 15th at 5pm, Marion and Morrow Counties will become the hub for one of Ohio's largest avian species counts right in the midst of our neo-tropical warbler migration.
The goal of the Bi-County Bird-a-thon is to promote the citizen science of wildlife surveys and to educate our community on avian migration.
Teams can count more than one location of the 24hr period, but must remain as one unit throughout the
 count (no splitting up). Each team will choose a "Lead" that will be responsible for reporting after their team finishes spotting in each location.
Bird identification and species listing is reliant on the "honor system." Teams can choose to bird for the entire 24hr period or for as long as they are comfortable.
A reminder to get outside this month,
Tyler
2021 Terradise Calendar
Our 2021 Wildlife Calendar, feature scenes from around Marion and Morrow County, are available on our website! We are beyond thrilled to have so many accomplished, local photographers and artists represented in this year's edition. All proceeds will be utilized in upcoming community conservation projects.
Our Generous Champion-Level Donors